Tonight we launch our television advertising campaign. The theme is simple. 'WorkSafe Must Prosecute'. Watch Channel Nine's evening news at 6pm in Victoria.
Here's the advert.
Here are images from the advert: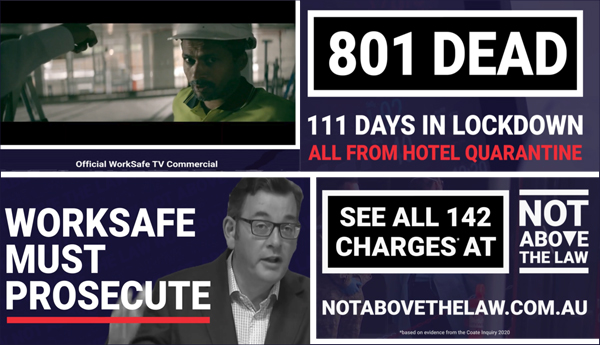 The ad campaign has been a long time in preparation and only possible because of significant $ support from large numbers of SEA members. Our BIG thanks.
The television ads are being supported by a major social media campaign featuring the ad. And we're running community A-Frame mini-billboard ads across some 50 sites in Victoria.
The campaign at this stage is planned to run for 3 weeks.
With WorkSafe Victoria continuing to refuse to do the job it is required to do we have to bring as much community pressure to bear as is possible. The rule of law must apply, no matter what exalted position an individual or organisation commands.
Remember our call for prosecution is based on evidence from the Coate Inquiry into the Victorian Hotel Quarantine disaster in 2020. Here's our major analysis: The Case For The Prosecution.
Our campaign will continue to develop. We are not stopping. Rather we are just warming up.