The law explained in simple terms
Despite appearances, the difference between an employee and an independent contractor (self-employed) is simple. Here we explain the simplicity and how to unravel the apparent complexity. We provide key links (for SEA members) which give the detail.
The simple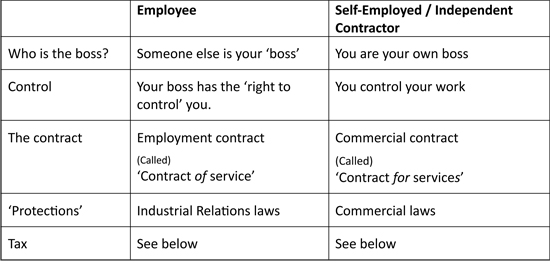 Unravelling the apparent complexity/confusion
Australia
The High Court
In February 2022 the Australian High Court delivered an historic ruling clarifying how the difference between an employee and independent contractor/self-employed person is to be determined.
The High Court said – If a written contract is clear and comprehensive, it is the written contract that determines the outcome.
Here's our comment/summary from August 2022 (public page)
In addition, SEA members can access:
The Australian Taxation Office
In late 2022 the ATO released new rulings on how the ATO:
Defines employee vs independent contractor based on the High Court's February ruling.
Will assess a business/person for PAYG and Super compliance
Here's our comment/summary from February 2023 (public page).
We supply links for members to:
Further commentary to come.
International law
The International Labour Organisation (ILO) is the most important global authority on labour law. In 2006 it declared the following
Some key SEA info links (members-only)
Here are some key legal Australian court cases (employee vs independent contractor) that took place before February 2022. Note that all these cases are now subordinate to the February 2022 High Court ruling.
Disclaimer
SEA does not provide, and the content and links on this page are not legal, accounting or other professional advice. The information SEA provides is to assist lay people to understand the law on issues as best as possible. You should seek your own legal, accounting and other advice when making your own business and other decisions. SEA is not liable or accountable for the decisions you make.