With Victoria back into another hard lockdown, we are following through on our campaign to have the Victorian government prosecuted for breaches of health and safety laws.
Today we release our YouTube assessment of "Was Covid-19 unprecedented?" The Victorian government uses this excuse to say that it was/is not responsible for over 800 deaths.
We present the evidence that a flu pandemic was expected and that it was well known that Covid-19 was coming. Click on the image to view the 4-minute video.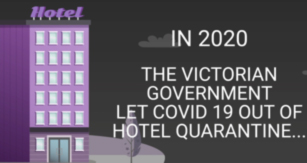 You can read the full details with links to source documents here.
We are finalizing an assessment of the causes of the latest Victorian hotel quarantine failure and will publish this shortly. This will support an additional letter we will be sending to WorkSafe Victoria. We will be advising them of the need to prosecute the Victorian government for breaches of health and safety laws over this latest quarantine failure. The evidence requires prosecution. More information soon.